95 U.S. 714 (1877).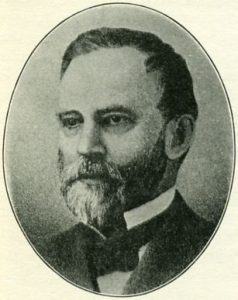 The Holding: No state can exercise direct jurisdiction and authority over persons or property outside of its boundaries. The state, however, may exercise jurisdiction over persons and property inside the state in ways that will affect persons and property outside the state. In proceeding against a nonresident's property, located within the forum state, substituted service of process is only effective in a proceeding in rem and where the object of an action is to determine the personal rights and obligations of the parties, service by publication against a nonresident is ineffective to confer jurisdiction upon the court.
Summary: A seminal United States Supreme Court opinion in which the Court upheld the exercise of state court jurisdiction when a defendant was served with process within the state.
The case involved an action filed by Neff to recover possession of a tract of land from Pennoyer, which Pennoyer had acquired through a sheriff's deed resulting from a judgment against Neff in a prior suit in Oregon. The outcome of Neff's action hinged on the validity of the judgment against him obtained by Pennoyer in the previous litigation. The Court held that because Neff did not reside in Oregon, did not receive personal service of process, and failed to appear in court, the judgment in first lawsuit could not be valid against Neff.
In Pennoyer, Neff asserted that publication did not constitute adequate service, causing the Oregon court to lack jurisdiction over him, rendering the default judgment against him void. The Due Process Clause of the Fourteenth Amendment forbids the states from depriving "any person of life, liberty, or property, without the due process of law." A state violates the Due Process Clause if its courts enter judgments against defendants without properly following a fair judicial procedure, which begins with alerting a defendant of a pending litigation through adequate service of process. Thus, Pennoyer established that a court may exercise jurisdiction over a nonresident defendant only if the defendant consents to the jurisdiction of the court by being personally served, or by owning property within the forum state that is subject to a payment to a citizen of that state.
Pennoyer has become outdated as the advances in transportation and communication increased interstate business and personal mobility. In International Shoe Co. v. Washington, the United States Supreme Court acknowledged the unworkable restrictions of Pennoyer, and set forth more salient requirements to satisfy due process.
Historically . . . [a defendant's] presence within the territorial jurisdiction of a court was prerequisite to its rendition of a judgment personally binding him. But now, . . . due process requires only that in order to subject a defendant to a judgment in personam, if he be not present within the territory of the forum, he have certain minimum contacts with it such that the maintenance of the suit does not offend 'traditional notions of fair play and substantial justice.'
Related entries