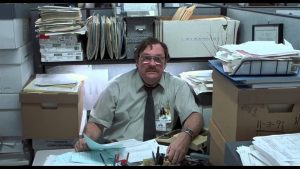 In employment law, the term "constructive discharge" refers to a scenario where an employer's conduct effectively forces an employee to resign and leave his or her place of employment.
As explained by the California Supreme Court in Turner v. Anheuser-Busch, Inc., 7 Cal. 4th 1234 (1994), "[a]lthough the employee may say, 'I quit,' the employment relationship is actually severed involuntarily by the employer's acts, against the employee's will. As a result, a constructive discharge is legally regarded as a firing rather than a resignation." Id. at 1244-45; see also First Judicial Dist. Dep't of Correctional Servs. v. Iowa Civil Rights Comm'n, 315 N.W. 2d 83, 87 (Iowa 1982) ("Constructive discharge arises when the employer deliberately makes an employee's working conditions so intolerable that the employee is forced into an involuntary resignation.")
Constructive discharge was first recognized by the federal courts. State courts have since generally followed the federal courts in recognizing constructive discharge in the context of discrimination and wrongful discharge cases.
ACTUAL DISCHARGE vs. CONSTRUCTIVE DISCHARGE
The relationship between and employer and employee is generally terminated by resignation by the employee or discharge by the employer. An employee voluntarily severs the relationship by resignation; the employer does so by actual discharge.
Actual discharge carries significant legal consequences for employers, including possible liability for wrongful discharge. In an attempt to avoid liability, an employer may refrain from actually firing an employee, preferring instead to engage in conduct causing him or her to quit. The doctrine of constructive discharge addresses such employer-attempted "end runs" around wrongful discharge and other claims requiring employer-initiated terminations of employment. Turner v. Anheuser-Busch, supra 7 Cal. 4th at 1244; see also Balmer v. Hawkeye Steel, 604 N.W. 2d 639, 641 (Iowa 2000) ("Constructive discharge provides a mechanism to avoid the technical requirement that wrongful discharge be based on employer-initiated discharge.").
EMPLOYER'S LIABILITY FOR CONSTRUCTIVE DISCHARGE
Constructive discharge, in and of itself, does not constitute wrongful discharge that would make the employer liable to the employee for damages. Rather, in order to hold the employer liable, a court/jury must also determine that the constructive discharge breached an express employment contract, breached an implied employment contract, violated a statutory requirement or violated public policy.
As the court explained in Turner v. Anheuser-Busch, supra: "Standing alone, constructive discharge is neither a tort nor a breach of contract, but a doctrine that transforms what is ostensibly a resignation into a firing. Even after establishing constructive discharge, an employee must independently prove a breach of contract or tort in connection with employment termination in order to obtain damages for wrongful discharge . . . An employee may prove, for example, that a constructive discharge is a breach of an express or implied contract of employment. In the absence of an express or implied agreement to the contrary, an employment relationship without a fixed term is presumed to be validly terminable at the will of either party, employer or employee, at any time . . . However: 'In the employment context, factors apart from consideration and express terms may be used to ascertain the existence and content of an employment agreement, including the personnel policies or practices of the employer, the employee's longevity of service, actions or communications by the employer reflecting assurances of continued employment, and the practices of the industry in which the employee is engaged.' Thus, a constructive discharge may, in particular circumstances, amount to breach of an employer's express or implied agreement not to terminate except in accordance with specified procedures or without good cause . . . Apart from the terms of an express or implied employment contract, an employer has no right to terminate employment for a reason that contravenes fundamental public policy as expressed in a constitutional or statutory provision. An actual or constructive discharge in violation of fundamental public policy gives rise to a tort action in favor of the terminated employee." Id. at 1251-52; see also Colores v. Board of Trustees, 105 Cal. App. 4th 1293, 1306 (2003); Balmer v. Hawkeye Steel, supra, 604 N.W. 2d at 643 ("The mere allegation that a discharge is constructive does not convert a nonactionable discharge of an at-will employee into an actionable tort."); Gormley v. Coca-Cola Enterprises, 109 P.3d 280, 282 (N.M. 2005) ("Constructive discharge is not an independent cause of action, such as a tort or a breach of contract. Instead, constructive discharge is a doctrine that permits an employee to recast a resignation as a de facto firing, depending on the circumstances surrounding the employment relationship and the employee's departure.").
Thus, an employee who resigns and later brings a lawsuit against his or her employer for wrongful termination must first prove constructive discharge and then establish an independent breach of contract or tort in connection with the employment termination in order to obtain damages from his or her employer.
PROVING CONSTRUCTIVE DISCHARGE
To establish constructive discharge, the plaintiff must show that the "working conditions would have been so difficult or unpleasant that a reasonable person in the employee's position would be compelled to resign." Bourque v. Powell Elec. Mfg. Co., 617 F.2d 61, 65 (5th Cir.1980).
As the court explained in Gormley v. Coca-Cola, supra, in order to prove that his or her resignation was in fact a constructive discharge, "an employee must [establish] facts sufficient to find that the employer made working conditions so intolerable, when viewed objectively, that a reasonable person would be compelled to resign. Essentially, a plaintiff must show that she had no other choice but to quit. The bar is quite high for proving constructive discharge." 109 P.3d at 282-83; Turner v. Anheuser-Busch, supra, 7 Cal. 4th at 1244-45 ("The cases are in agreement that the standard by which a constructive discharge is determined is an objective one — the question is whether a reasonable person faced with the allegedly intolerable employer actions or conditions of employment would have no reasonable alternative except to quit.").
ACTIONS BY THE EMPLOYER THAT MAY CONSTITUTE CONSTRUCTIVE DISCHARGE
Following are a few examples of employers' actions that will likely constitute constructive discharge:
a humiliating demotion
an extreme cut in pay
a transfer to a position in which the employee would face unbearable working conditions
an employer's threat of being fired
overt pressure to resign and accept early retirement
Case Examples: See Douglas v. Orkin Exterminating Co., 2000 WL 667982, at *4 (10th Cir. May 23, 2000) (evidence of a demotion and lower pay may establish constructive discharge); Keller v. Bd. of Educ., 182 F.Supp.2d 1148, 1157 (D.N.M.2001) (holding that constructive discharge claim was supported by the record and justified denial of summary judgment when employee was reassigned to a job without a job title and description, her office was in a supply closet, and her salary was cut by more than one-half, amounting to less than her retirement benefit); Gower v. IKON Office Solutions, Inc., 177 F.Supp.2d 1224, 1233 (D.Kan.2001) (holding claim of constructive discharge was supported by evidence that the worker was given twenty-four hours to sign a new contract limiting the number of accounts he could service, reducing his commission in one account from $8,000 to $3,000 per month, and changing his reporting requirements); Goodwin–Haulmark v. Menninger Clinic, Inc., 76 F.Supp.2d 1235, 1239 (D.Kan.1999) (concluding that overt pressure to resign raised genuine issues of material fact to justify denial of summary judgment regarding constructive discharge); James v. Sears, Roebuck & Co., 21 F.3d 989, 993 (10th Cir.1994) (finding that systematic threats and pressure to retire constituted constructive discharge).
ACTIONS BY THE EMPLOYER THAT LIKELY WILL NOT CONSTITUTE CONSTRUCTIVE DISCHARGE
Not all adverse employment actions constitute constructive discharge. In many cases, the circumstances surrounding resignation are not egregious enough to pass the objective standard for constructive discharge — that a reasonable person faced with the adverse employer's actions or conditions of employment would have no reasonable alternative except to quit.
For example, a slight decrease in pay or loss of overtime hours have been held to not constitute constructive discharge.
Case Examples: See, e.g., Gioia v. Pinkerton's, Inc., 194 F.Supp.2d 1207, 1228 (D.N.M.2002) (stating that plaintiff's change in duties and pay reduction of approximately 9.1% did not constitute constructive discharge); Garrett v. Hewlett Packard Co., 305 F.3d 1210, 1221 (10th Cir. 2002) (intimidating behavior by supervisors resulting in lower performance evaluations and repeated denial of requests to transfer did not amount to constructive discharge); Baker v. Perfection Hy–Test, 1996 WL 1162, at *9–11 (10th Cir. Jan. 16, 1996) (holding a demotion, a ten percent reduction in pay and jokes by co-workers directed at plaintiff did not amount to constructive discharge); Heno v. Sprint/United Mgmt. Co., 208 F.3d 847, 858 (10th Cir.2000) (holding that change in location of desk, monitoring of telephone calls, ostracism by fellow employees, and suggestion by supervisor to transfer did not amount to constructive discharge); Williams v. Giant Food Inc., 370 F.3d 423, 434 (4th Cir.2004) ("dissatisfaction with work assignments, a feeling of being unfairly criticized, or difficult or unpleasant working conditions are not so intolerable as to compel a reasonable person to resign") King v. AC & R Adver., 65 F.3d 764, 767–68 (9th Cir.1995) (a compensation reduction from $235,000 to $175,000 was insufficient as a matter of law to cause constructive discharge); McCann v. Litton Sys., Inc., 986 F.2d 946, 952 (5th Cir.1993) (a 12% decrease in pay plus loss of some supervisory responsibilities was not a constructive discharge).
Related entries